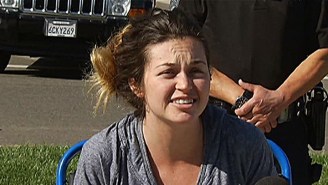 Kyndall Jack pictured above.
A rescue volunteer who broke his back during a search has filed a lawsuit against one of the hikers he helped search for in Orange County, California last year. The volunteer, Nick Papageorges IV, had titanium rods and 11 screws placed in his spine after his fall which crushed several of his vertebrae.
Papageorges seeks to recover about $500,000 in medical costs from the missing hiker Kyndall Jack. This sort of case is one people often point to when citing outrageous lawsuits, but a closer examination of the facts of the case may at least provide some insight as to why such a lawsuit is possible.
The first important fact is that Jack, at the time of the rescue, may have been under the effects of illegal drugs. Her hiking partner at the time, Nicolas Cendoya, pled guilty to drug possession after authorities found 497 milligrams of methamphetamine in his car. Papageorges' lawsuit alleges that Jack intended to take hallucinogens, but Cendoya was not named in the lawsuit for unexplained reasons.
Even if the two hikers were potentially on the drugs at the time of the accident Papageorges' case still needs some sort of case law or other statute to provide his case with legal grounds. For this, Papageorge's has looked to California's "Marsy's Law". Marsy's law exists to provide additional rights to victims of crimes and addresses restitution in section 13. Here it states "It is the unequivocal intention of the People of the State of California that all persons who suffer losses as a result of criminal activity shall have the right to seek and secure restitution from the persons convicted of the crimes causing the losses they suffer." If Papageorges' attorney can show that Papageorges' injuries were the direct result of negligence and criminal activity on the part of the hikers it is possible this case could be won.
The article states that Papageorges had previously attempted to acquire restitution from Cendoya under the same law, but it is not clear if this attempt failed or if Papageorges chose to pursue Jack instead.
In order for this sort of strategy to work in a courtroom Papageorges' attorney would have to show that the hikers' drug usage was more "probative than prejudicial". This means that this evidence would have to provide substantially more factual value to a case in comparison to how this evidence might prejudice the jury or judge to the opposing party. However, it would appear that the "bad" facts for the defendant may be the basis for establishing liability so it would likely come in if the plaintiff can show that the illegal drugs were causally connected to defendants getting lost in the wilderness.
The bottom line is that I'm not sure if this is a valid case as it stands as I am not overly familiar with California case law. If previous cases can be found where Marsy's Law was applied in a similar capacity then Papageorges might have a good case. Either way it seems that if we were to take Marsy's Law exactly as written Papageorges has a reasonable argument. This sort of examination is why it is always important to not take headlines for their base shock value, especially for something as heavily politicized as tort law.
If you or someone you know requires an experienced, aggressive injury attorney, contact us to schedule a free consultation so we can help you get the best recovery possible.